Gain Location Intelligence from your data
"Do you know that you can ultimately optimize your business by integrating Google Maps Platform with Google Cloud (BigQuery)?"
Google Cloud can efficiently organize tons of data in the logistics system from Warehouse until the end user when mutually integrating with Google Maps Platform. Then, logistics companies have effective fleet management with accurate routing, shorten delivery time and increase customer satisfaction. Similarly, Retail & Ecommerce companies can use Machine Learning (AI) integrated together with Google Maps Platform to suggest the best and the most popular product picture of their shop with accurate location into their sites. This can decrease shopping cart abandonment rates for their websites.
Who should attend this event:
Marketing Director
CEO, CTO, CFO, CMO
Business Development
Supply Chain Manager
Business Analyst
IT Manager
Head of Logistics
Google Maps Platform today covers 99% of the world, building with reliable and enabling businesses to gain comprehensive data from more than 200 countries. Over 1 billion people around the world use Google Maps Platform daily counting on accurate and real-time location information. More than 650 million miles are driven with Google Maps Platform each day. Moreover, over 2 million active on websites and apps use Google Maps APIs every week.
If you are in the Retail & Ecommerce and Logistics industry, don't miss this opportunity to learn more about Google Maps Platform with maps APIs and Google Cloud Platform (BigQuery) which can help your business solve effectively the issues with the right solution.
What you can learn from our event:
Get to know more about Google Cloud products including BigQuery and Google Maps Platform
Better system management in Logistics and eCommerce companies
Create Customer Loyalty and increase customer satisfaction
Hear from top companies in the market through Google Maps Platform use cases
Agenda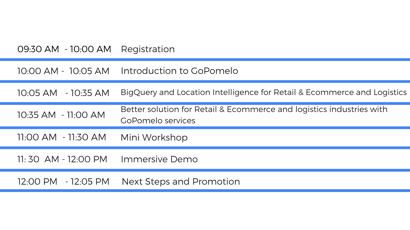 Event details
Date: Thursday, 5 March 2020

Time: 10.00 am - 12.05 pm (Registration begins at 09.30 am onward)

Place: Google Thailand, Floor 14 (TomYumKoong Room)