Innovate your business with
SAP
on Google Cloud.
The world's most innovative cloud + the world leader in enterprise software.
In this event, you'll discover how SAP and Google Cloud's shared strategy that can help bring out the best business value for your organization. Together they provide the highest level of flexibility, security, and innovation opportunities.
Be ready for the intelligent enterprise with Google Cloud solutions for SAP. Upgrade simply with easy migration tools, run with agility on an all-VM based architecture, and innovate for results from your SAP data. Whether you want to shift SAP applications to the cloud, integrate machine learning into your business processes, or enrich your enterprise data to unlock new business value, your SAP applications and SAP HANA are certified to run on Google Cloud.
"Through this partnership, Google and SAP are providing capabilities that make it
possible to innovate in entirely new ways… providing our customers with the
foundation for innovation for continued success"
– Bernd Leukert, Member of the Executive Board of SAP SE, Products & Innovation '
Who Should Participate.?
CIOs, Directors/VPs of SAP CoE

Directors/VPs of IT

Technical SAP architects
Join us at this event where you'll learn:
How deploying SAP with Google Cloud can improve security, scalability, and reliability– while saving your IT Total Cost.
The best practices and recommendations on how to easily migrate and scale your key SAP workloads.
Running SAP continuously with 99.99% uptime.
Improving flexibility with Google Cloud's all-VM-based architecture.
Innovating results with analytics and Machine Learning /AI
Agenda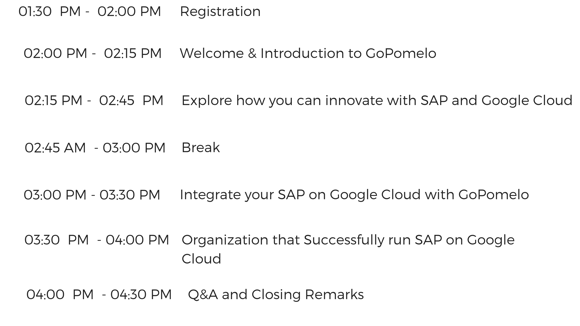 Details
Date : Wednesday 04 September,2019

Time: 02.00PM - 04.30PM (Registrations will start at 01.30PM)

Venue: Google Thailand
Language: Content will be delivered in Thai