TRANSFORM YOUR WORK THE
GOOGLE WAY
Nowadays, every organization becomes more diverse, dynamic, and distributed than ever before. Industries and incumbents are being disrupted by new, more agile players, and businesses need to digitally transform to stay relevant. The success of a digital transformation ultimately comes down to people and how they work.
Apart from G Suite, Google has innovated Google Cloud Search and AutoML, which allows employees of a company to search and retrieve information, such as internal documents, videos, images, database fields, and CRM data, from the company's internal data repositories. With Cloud Search, we're bringing the best of Google Search to your business. Whether integrated with G Suite or third-party applications, Cloud Search helps your employees quickly, easily, and securely find information across the business.
GoPomelo and Google would like to invite you to the "Transform Your Work The Google Way" event. We are welcoming you to hear and focus more on G Suite and Google Cloud Search, learn how to leverage productivity, collaboration and search to get the most of your investment in Google Cloud.
Topics:
All About G Suite!

Create a Culture of Real-time Collaboration

Bring the power of Google to enterprise with Cloud Search and AutoML

Immersive demo
Save your seat today!
Agenda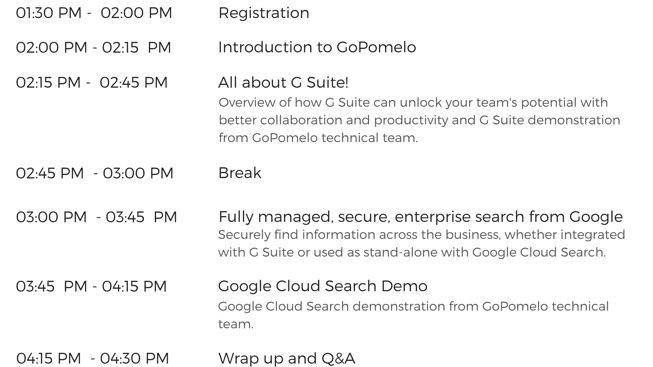 Event details
Date: Thursday, November 21st, 2019

Time: 2.00 PM - 4.30 PM (Registration commences at 1:30 PM)
Venue: Google Singapore
(70 Pasir Panjang Rd, #03-71, Singapore 117371)
Language: Content will be delivered in English
Save your seat today to learn how you can enhance your collaboration and meeting experience with Google!