DIGITAL WORKPLACE TRANSFORMATION WITH
G SUITE
Nowadays, every organization becomes more diverse, dynamic, and distributed than ever before. Industries and incumbents are being disrupted by new, more agile players, and businesses need to digitally transform to stay relevant. The success of a digital transformation ultimately comes down to people and how they work.
GoPomelo and Google would like to invite you to the "Digital workplace transformation with G Suite" event. We are welcoming you to hear and focus more about G Suite Business edition, learn how to leverage productivity and collaboration solutions to support the digital transformation journey.
Why G Suite?
Many of the most innovative companies in the world have embraced G Suite and seen their employees become more agile, more data driven, more collaborative, more productive, more engaged. See how G Suite enable over 2 millions enterprises to work more efficiently and effectively from anywhere in the world!
Save your seat today!
Agenda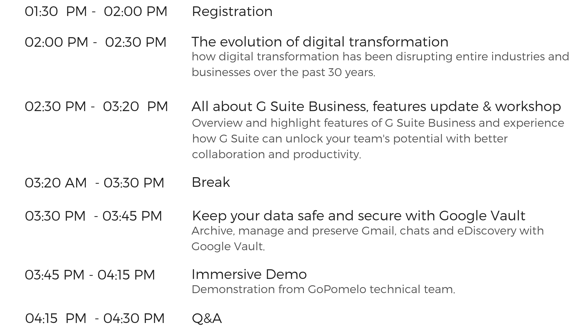 Event details
Date: Wednesday, August 21st 2019

Time: 2.00 PM - 4.30 PM (Registration commences at 1:30 PM)


Venue: Google Thailand
(57 Park Ventures Ecoplex Witthayu Rd, Lumphini, Pathum Wan District, Bangkok 10330)
Language:
Content will be delivered in Thai
Save your seat today to learn how you can unlock your team's potential with G Suite!