Cloud Application Deployment
Our deployment methodology for deploying cloud applications (or software-as-a-service) has evolved over the many years we've supported large customers in their transition to cloud based applications.

First, we recognize that deploying cloud apps is not just an IT project. The technical bits & bytes have been tried and tested and we are very good at deploying the core technology. The key to success is in the change management and leadership provided for this transition. What is the investment we'll make in helping people work a new way and realize the full potential of the application.

Second, we recognize it takes time. Not everyone will switch to working differently on the Monday you move to the new platform. And as such, we want to be partners with you for the long haul. We want to help you leverage the full capabilities of the technology.


It's not just an IT project…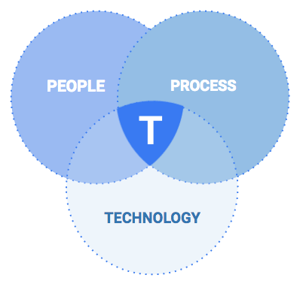 To meet these demands, we propose accelerating the digital transformation of your business processes.
This effort can be summed up simply with this diagram. Often times, IT will focus on only one part of the solution (technology) or maybe two, the people side with sprints of organizational change management that supports the technology changes.

However, we propose that true "innovation" is achieved only when all three components are acted on together in a sustained way. That is to say, through enabling technology, motivating people, and reinventing processes, organizations are able to achieve true innovation through the deployment process.
Ensure Long Term Success

Our methodology has evolved to include best practices that span beyond your initial application launch to help users adapt to their new tools and help them become an embedded part of your collaborative culture.
Cloud Infrastructure Deployment
Whether you have started or yet to begin your journey to cloud infrastructure and services, GoPomelo Cloud Consultants are here to support your strategy, enablement and implementation.

Our Cloud Platform practice areas are focused on Infrastructure (or Lift & Shift) moves, big data and analytics projects, machine learning, and application development.

Our proven methodology, supports our customers at every stage of their journey to the cloud. Our Enable engagements provide customers with the tools and knowledge to be able to make informed decisions about what, how, and when to move to the cloud. If ready to launch a cloud project we will always begin the engagement with a Design phase. This is critical to the success of the Execute phase, where actual cloud deployments take place. Our ongoing engagements in the Enhance phase ensure that you are optimising your cloud usage and sufficiently supported for success.