We believe that every single one of our customers should be G Suite Champions that's why we're turning our next quarterly meetup in a special Google Cloud Tech Day, a full day led by our Certified Google Cloud Engineers.
The full day will consist of G Suite Admin training & Breakout sessions focussing on various cloud topics that you might want to learn more about. During the day there will be a GoPomelo lunch where you have a chance to talk with fellow IT admins and G Suite users. Followed by the latest G Suite updates and what's on the roadmap. We would like to give you the opportunity to learn more about the cloud and how to use the latest Google technologies to get even more value from your G Suite investment with GoPomelo.

We believe working together is the key to success!
The Topics being covered during this day.
In the afternoon Local Google Partner Engineer, Nantawat Eamchareon, will give a guest session on Cloud Machine Learning APIs
ADMIN TRAINING - MORNING TOPICS
Setting Up Admin Management roles for different OUs
End user life cycle management. What happens when an employee leaves?
App access and security best practices
OU Concepts Design and Implementation
Using My Drive vs Team Drive
Using G Suite Tools to Diagnose mail flow problems
Device and Browser Management in G Suite and Chrome
Using Google Groups for Business
ADMIN TRAINING - AFTERNOON TOPICS
Hangouts Chat and the Future of Enterprise Team Collaboration with BOTs
Creating a good offline experience for end users with admin setup,
Improve Adoption of G Suite and replacing Microsoft Office,
Customizing Gmail with Gmail Add-ons,
Adding Google Identity for other user types,
Using Google Sites for Intranet replacement,
Using App Maker to build custom applications and workflow, Mix Edition between Basic and Business
Understanding the difference between G Suite Basic, Business & Enterprise
BREAKOUT SESSIONS - MORNING
Session A
Session B
Using Google Cloud Platform for Backup and Disaster Recovery
Google Identity - replacing Active Directory and LDAP
Securing your website and increase performance with Cloudflare
Session C
Protect your users from Web with web security for end users anywhere
Prodoscore - Measure employee productivity on G Suite
BREAKOUT SESSIONS - AFTERNOON
Session A
Session B
Session C
Migrating IT Infrastructure to Google Cloud Platform

Building Hybrid clouds with GCP
Session D
Agenda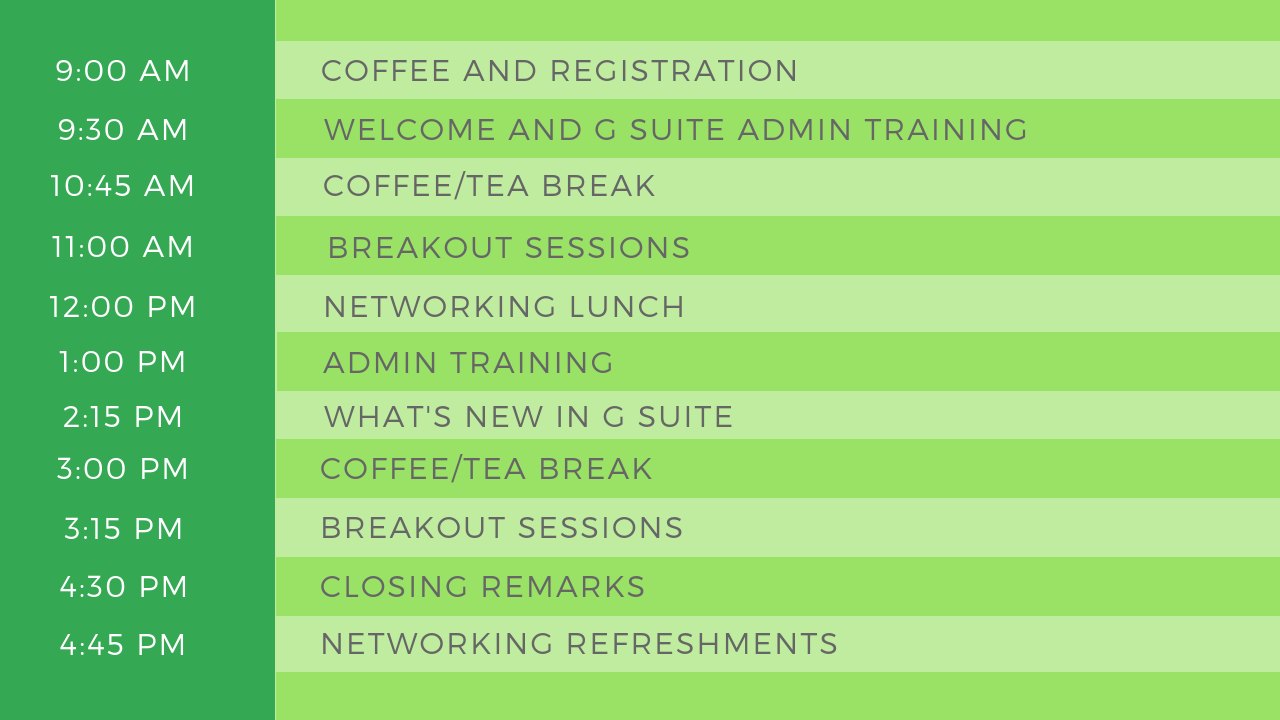 Date: Thursday October 25th, 2018
Time: 9.30 AM - 5.00 PM (Registration commences at 9:00 AM)
Venue: Campus 101, Bangkok, Thailand
Save your seat for the special Google Cloud Tech Day*
*Please note, we will call confirm your attendance prior to the event.