Empowering collaboration and create more productivity with
G Suite
In globalized world, many organizations become more diverse, dynamic, and distributed than ever before. Industries are being disrupted by new, more agile players, and businesses need to digitally transform to stay relevant. The success of a digital transformation ultimately comes down to people and how they work.
Why G Suite is better than others?
As a cloud-based productivity suite, G Suite is designed to make productivity in your organization as easy access as possible. Especially, G Suite is able to deliver real transformation to businesses is that it's simple to adopt and use. 'G Suite is born in the cloud and built for the cloud', which means real-time collaboration is effortless. This is why more than a billion people rely on G Suite apps like Gmail, Docs, Drive and more on a daily basis. Instead of defaulting to old habits—like saving content on your desktop—G Suite saves your works securely in the cloud and provides a means for teams to push the boundaries of what they create. Interestingly, regarding budget G Suite is an attractive option for many users. It is offered in a range of diverse versions and tiers. Hence, you are sure to find the best G Suite solution that fits your needs.
GoPomelo and Google would like to invite you to the "Empowering collaboration and create more productivity with G Suite" event. We are delighted to welcome you to focus more on G Suite, and learn how to leverage productivity and collaboration to get the most of your investment in Google Cloud.
Join us to learn more about how G Suite by Google Cloud can help businesses reduce legacy costs and drive collaboration /mobility /productivity. Since 2007, G Suite has been helping businesses grow faster through a modern messaging and communication platform.
Topics our experts will cover include how to:
Make decisions faster and collaborate in real time

Store and share files in the cloud

Secure your date and devices

Easily configure security settings from a centralized administration console
Our experts will explain a full assessment and offer customized recommendations for your business.
Save your seat today!
Agenda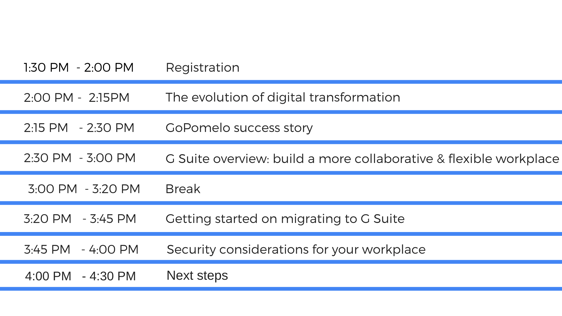 Event details
Date: Wednesday, November 20th 2019

Time: 2.00 PM - 4.30 PM (Registration commences at 1:30 PM)

Venue: Google Thailand, 14 floor (Tom Yum Koong Room)
Language: Content will be delivered in Thai and English
For this event in Google Office in Bangkok we have limited seats so please reserve your place asap.