As the working world evolves rapidly, Workplace helps you keep up. We bring the familiar, reliable tools and a constant focus on innovation. You bring the energy to work smarter, faster and better together.

More than just a quick chat
Workplace doesn't just get people talking. It's a rich space for everyone to work together, share ideas and swap expertise.

Work across organizations with multi-company groups
Hold team and 1:1 meetings with group calls and screen-sharing
Strengthen teamwork with real-name profiles, org charts and automatic language translation
Scan important updates quickly with a News Feed tailored to you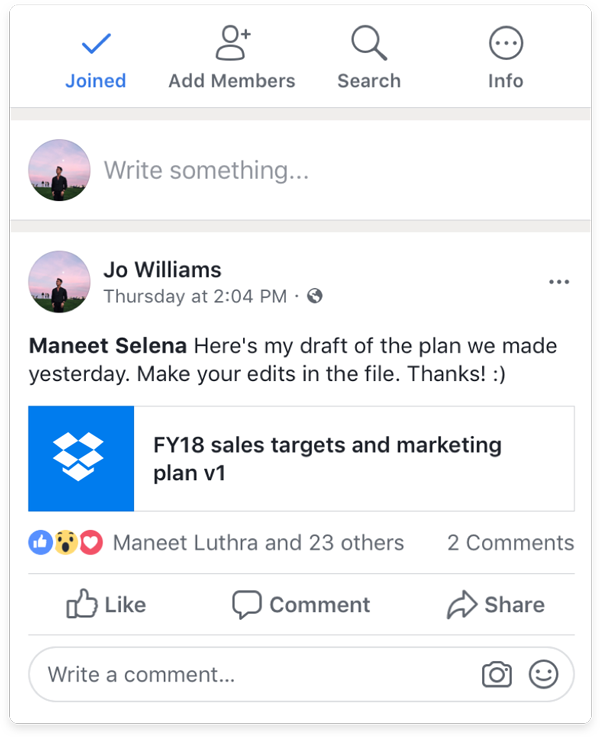 More than just another tool
Make Workplace the heart of your organization, with direct access to files and information in the business tools you already use.

Extend Workplace with free integrations for Dropbox, G-Suite, OneDrive and many more
Deploy custom bots to automate everyday tasks
Use our open API to build the right tools for your business

More room to grow
Workplace gets better as more people use it. It's structured collaboration and a better way to join global teams together to make even the largest conversations easy to follow.

Get notified of conversations from across your organization
Choose which coworkers to follow and build your network
Secure your system with support for single sign-on from your identity provider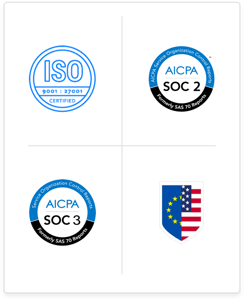 More control over your data
With Workplace Premium, you'll always own your data. Protecting personal information is at the heart of all we do at Facebook. We review every new feature or product update to assess the impact on security and privacy. It's simply part of our culture.

successful launch Packages
Designed to help you get the most out of Workplace
Offering deep product expertise and integration support
Providing services based on proven methodologies and best practices
Equipping your team to take on challenges with training and enablement
Working with you beyond the launch phase to get maximum return from the platform
LEARN MORE ABOUT OUR LAUNCH PACKAGES
Contact Sales for Workplace by Facebook