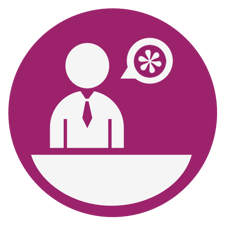 Transform the way visitors
register at your company!
The Visitor Bot is a self-service kiosk that allows your company to manage visitor registrations at your office. Integrated seamlessly with Workplace by Facebook, the Visitor Bot allows visitors to notify hosts on Work Chat that they have arrived to your office.
Each visitor registration creates a post on your Visitor Workplace Group and sends the visitor an email with an electronic badge.
Main Features
A customisable web application to allow visitors to register

Integration with Workplace by Facebook and Hangouts Chat

A Visitor Notification to hosts on Workplace Chat

Allow for quick replies from hosts for visitor acknowledgement

E-Badge's for Visitors

Internal message board with visitors name and photo

Reports and history of visitor events at your company
Sign up today for a free trial or contact us for more information and experience first hand the advantages of having a Visitor Bot.
Integrations