Gain Business Profitability with Google Maps Platform
According to Forbes, 90% of the data in the world was created in the last two years. And the majority of the data in the world already has or will have a location component providing context and connection between all of this data that doesn't seem to otherwise be linked or have an obvious relationship, driving business insights and value.
Location data is more important than ever! Did you know that most of the data in the world has a location component? It is essential for your organization to leverage a fast-moving, intelligent, and scalable platform to grow your business and enhance business capability.
Google Maps Platform customers use these tools to make better decisions in a wide variety of mission-critical use cases, such as:
Helps enterprises build better customer experiences
Optimize a company's operations
Use data for analytics with Business Intelligence
Maps, Routes, and Places are the three Google Maps Platform product lines.
This workshop is suitable for:
Retail & eCommerce, Logistics/Delivery industries
Business owners and management teams
Application Developers
Technical and Solution Engineers
Anyone looking integrate Google Maps Platform into their businesses
What you can learn from our event:
Get to know more about Google Maps Platform
Better system management in Logistics and eCommerce companies
Create Customer Loyalty and increase customer satisfaction
Hear from top companies in the market through Google Maps Platform use cases.
Join us to learn more how Google Maps enables organisations to innovate, connect with customers, visualize data, analyze it and develop insights.
Agenda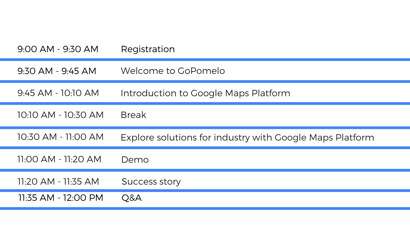 Event details
Date: Friday, 13 March 2020

Time: 9.00 am - 12.00 pm (Registration begins at 9.00 am onward)

Place: Found8 KL Sentral, Innovation Workshop 3 Room, Kuala Lumpur, Malaysia